Exhibition sound:frame «COLLECTIVE»
and
VIENNA ART NIGHT.

Moscow Museum Night Afterparty
MANEGE. Museum and Exhibition Complex
(Moscow, ​Manegnaja Square 1)
18 May — 26 June 2013
Opening: 17 May 2013, 19:00
Open lecture and Workshop: 20 May 2013, 19:00
VIENNA ART NIGHT 18 May 24:00 – 5:00
Organized by Sound:Frame, Музей экранной культуры «Манеж/МедиаАртЛаб»
With support of City of Vienna, Vienna Tourist Board and Austrian Cultural Forum Moscow
The Museum of screen culture Manege/MediaArtLab and sound:frame present project consisting of Exhibition sound:frame «COLLECTIVE» and multimedia audio visual concert «VIENNA ART NIGHT.Moscow Museum Night Afterparty» as well as open lecture for public and workshop special for the students of Open School Manege/MediaArtLab.
sound:frame «COLLECTIVE»
Exhibition curated by Eva Fischer (sound:frame Vienna). Under the theme «collective» sound:frame deals with networks, artist collectives, interdisciplinary teamwork and international collaborations. Chances, positive aspects as well as difficulties that arise through collective work are discussed. sound:frame considers itself to be a platform for current artistic movements, offering artists an international network that supports their artistic, formal, content-related innovations.
In the exhibition space of the Museum of Screen Culture Manege/MediaArtLab three installations are
shown.
Participants:
LWZ
music video: http://vimeo.com/22775048
visualisation of Gustav Mahler: http://vimeo.com/29382733
generative vvvv work: http://vimeo.com/49569642
luma.launisch
60 Seconds Somewhere Video Preview : http://vimeo.com/19393395
60 Seconds & Innenweltkosmos mit Ken Hayakawa im MAK /7 Okt 2011 : http://vimeo.com/30519894
www.lumalaunisch.com | www.facebook.com/lumalaunisch
VIENNA ART NIGHT
Moscow Museum Night Afterparty
The most innovative Viennese musicians and artists with the program of night concerts at Manege – Afterparty of all Moscow «Museum night».
The very first time in Moscow – Sound:Frame festival Vienna. It's one of the most important events in field of digital art. Since 2007 the sound:frame deals with audiovisual expressions within an artistic and club-oriented context. Each year intercreativity and collaborations between numerous artists and theorists from various areas such as visual art, media art, architecture and music provide the framework for sound:frame's thematic focus.
Participants:
Elektro Guzzi - http://www.elektroguzzi.net
Cid Rim - http://affinerecords.com/artists/cid-rim
Anna Leiser - https://soundcloud.com/anna-leiser
luma.launisch - http://www.luma.launisch.at/
LWZ - http://www.wearelwz.com/
e:v/a - http://av.soundframe.at/en/artist/live-visuals/eva/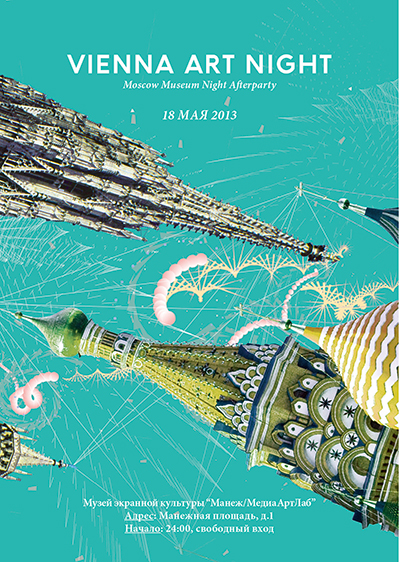 About sound:frame
Vienna has always been the capital of music. Today it is also the capital of live visuals and projection and their combination with music. A high number of artists work in the field of combining visuals and music in media art. sound:frame on the one hand realizes an annual inter-national festival in Vienna, on the other hand tours in an international context to present live performances, installations and exhibitions. In the course of realized projects from New York to Melbourne, from Toronto to Shanghai, from Rio de Janeiro to Berlin, from Detroit to Moscow, a broad network of audiovisual artists, musicians, video artists, theoreticians and experts was spun all around the world.
Information and accreditation:
Olga Lukyanova [email protected]
Natalia Fuchs [email protected]
www.vienna.info www.akfmo.org www.soundframe.at
www.mediaartlab.ru www.moscowmanege.ru